Featured Member: Zach Carringer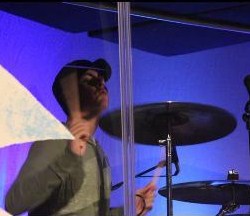 Loop Community is privileged to have many talented programmers contribute Loops and Tracks to the site. One of those is Zach Carringer. Zach has been involved in the LC Community for about a year now and has created some amazing tracks that many churches have been blessed by. Zach has become a good friend of mine and I really respect him and his work. I asked him a few questions about his Loop process.
1. What do you use to create your Loops?
2. What advice can you give to those who are interested in making Loops?
I would say if your interested in programming, then do it. If you can play an instrument that helps so much. Programming is a great way to learn how to have other music fit in well with the live music that is being played.
3. What Instruments do you play?
I play drums and piano. I've played drums for 9 years and piano for 5.
4. Are you serving somewhere in your church?
Yes, I am on staff at my church Faith Promise

on the Worship Staff. I do all the programming as well as band scheduling for our youth band teams.
5. What made you want to start using loops in worship?
My church started using loops after Justin Petrowski (the guy who taught me everything) went to a David Crowder Band show in 2001 and saw them using loops. He got the Reason 2.5 demo off their illuminate album and it all just started from there. We started out using it to track piano parts because Justin (GREAT piano player) had to play guitar on most songs so we needed keys parts tracked. Now we have a keyboard player each weekend at ALL of our campuses, So now we use loops for "filling in the spaces". We use drum loops, synths, and pads. However, all piano/rhodes and even some organ parts are now played live. Our loops also run a click w/ cues on it, such as "Intro 3 4" "verse 3 4".
6. How do you run loops live during worship?
We run 6 channel play back using the GIGAPORT HD which plays back 8 channels, but we only use 6. We run the loops from a MAC running them out of QUICK TIME. We used to run them out of PRO TOOLS LE 6.9 but that was causing our Macs to crash because its such a big program. We export the trax as 5.1 surround files. From there they are ran to the board (Yamaha PM5D in one venue and a Yamaha M7CL in 2 other venues) like this…


channels 1-2: Tracked keys (i.e. pads, synths, and organs)

channels 3-4: Tracked loops (i.e. drums loops, tambourines, glitch loops, and backing drum parts)

channel 5: Trax 5 (i.e. Special sounds such as strings, the synth line to You by Hillsong Live, and stuff like that)

channel 6: T-Click (i.e. all click and qs)