How To Run Loops While Leading Worship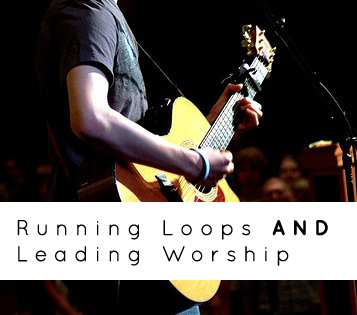 There are many ways that you can run loops in a worship setting but I want to take a moment and explain a few methods that I have used and the different ways you can use those methods.  This will hopefully give a better understanding on how you can use loops no matter what experience or knowledge you have.
Triggering Loops With an iPad or iPod
The first method I would say would be having the worship leader or someone else in the band trigger the loop with an iPad or iPod.  You can simply play the loop straight from iTunes or use an app such as touch osc (http://www.youtube.com/watch?v=gF7vMp_xuXY) that allows you to MIDI map to Ableton Live.  To run loops this method all you will need is a stereo out cable running into a stereo direct box from your computer, iPad or iPod.  This is probably one of the most affordable and easiest ways to start using loops in worship – and everyone needs to start somewhere.  I started using my iPod to trigger my loops and I gradually moved up from there.  One thing to note about this method is you don't need a ton of money to start using loops in your worship gathering.  You just need to start small and try it out.
Triggering Loops With a Controller            
A second method to running loops in your worship experience would be to use a program such as Ableton Live with a MIDI controller.  This method consists of having a MIDI keyboard, or a foot controller like the aBility controller or Soft Step controller. You can use these MIDI controllers to trigger your loop through Ableton.  This method of triggering loops can get a bit more complex but in the long run it helps create excellence in your worship experience.  I use this method each time I lead. There is a small learning curve. Getting to a point of proficiency in this method takes some knowledge and time to make sure it is implemented with consistency.  As the worship leader, you need to be sure you understand how Ableton works and how your controller is configured / how to MIDI map your controller to Ableton.  Do everyone in your band a favor and know what you're doing before you just jump into it.  It will help the whole band unite together when tension might be high during a rehearsal. You don't want to be wasting valuable soundcheck and rehearsal time fidgeting with your loop set up. Be prepared and ready to go. But also be knowledgable about the equipment so that when/if a problem arises, you can fix it on the fly.
Triggering Full Tracks or Triggering Individual Parts
Full Tracks           
Triggering a full loop track with or without a vocal cue can be a very easy and convenient way to start using loops.  A full loop track gives great stability to the arrangement you are composing, but also is problematic if you get off the arrangement and you have to kill the loop.  Having to kill the loop mid-song can totally de-rail a song and really pull away from the worship experience. Keep this in mind when you are in rehearsal.  If your band does not have the song down with the loop during your rehearsal, you should NOT try to run with it during the worship experience (no matter how cool your loop is).  Using a full loop track can give a great creative element when you use it with a video background or typography.  I recently did this with a video background for "In Christ Alone" that we got from Igniter media and replaced the media with my own loop.  This can be a little complicated, but if you want to look into it more you can also trigger Video within Ableton.
Triggering individual parts of the song.            
Another way to use a loop in worship experience is triggering each individual part of a song.  If you have your loop broken up into different parts of the song, you have the freedom to control where the song is going. If the band gets off the loop you can kill it and then bring it back in at the next part.  Triggering each individual part can also be helpful when you have a song that doesn't need a loop the whole time.  Maybe you just want to trigger a tambourine or a shaker for certain parts.  I use to do this a lot but now I am finding my self using a full track more often because my arrangements are already set before rehearsal time. If I need to make changes to the loop, I can do so before the weekend.  You can also set up Ableton to run a full track and also have it mapped out to trigger different parts. You can do this using "Locators" in arrangement view.  This gives the freedom to go back to a part of the song or if you had to kill the loop you can trigger the next part of the song.
Hopefully these thoughts are helpful.  If you have any question please leave a comment and continue the conversation.