We Are All Worship Leaders by Andy Walker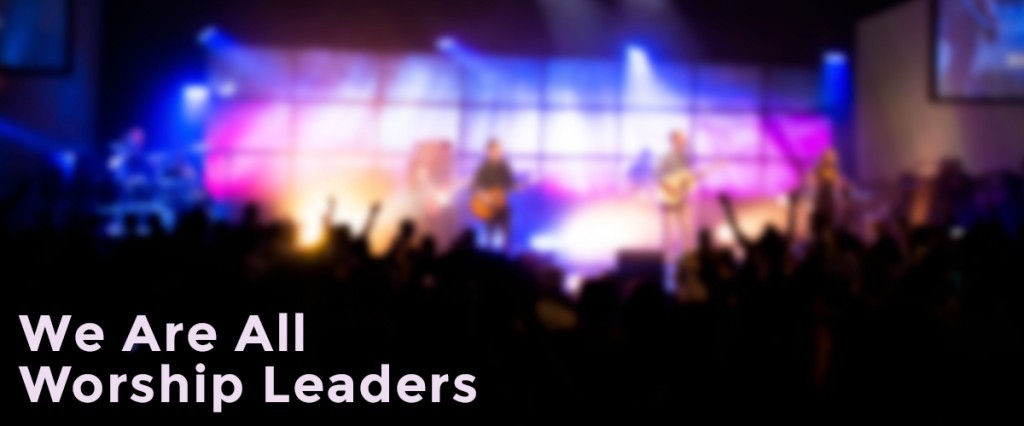 Several weeks ago, our pastor said he wants our church to be a singing church. Considering the plethora of articles and blogs written about getting the congregation to sing, the sentiment is a common one: How do we engage the congregation and lead them to worship together as a family with one voice raised in worship? I'm not going to address worship leaders, but rather, everyone else on stage. One thing that we can do to help the congregation engage in worship is remember, the rest of us are also worship leaders. But what does that look like?
Know the words….and sing them!
I confess that I have found myself so immersed in creating tracks, practicing parts, and dialing in the perfect guitar tone that I sometimes forget to listen to the words during the week. We need to pray through and meditate on the lyrics of the songs throughout the week, preparing our hearts to lead on Sunday. Then during the worship time, no matter what instrument we are playing, sing along! We can't pretend everyone is only looking to the worship leader. We aren't invisible. I love visiting a church and seeing a drummer singing his heart out when no one can hear him but God. How can we lead the congregation in worship as a church family if only one or two people on stage are singing while the rest of us stare intently at our charts or fingers? Which brings us to the next challenge…
Memorize the music
I know this may seem daunting, especially for volunteers with full time jobs and kids, but like anything else, memorization is a skill that takes practice, and over time it gets easier. We should eliminate anything that distracts someone from worshiping, and few things are more distracting than a player who doesn't know the song. When the songs become second nature, we free ourselves to focus and reflect upon the lyrics and to engage the congregation in worship. On engagement….
Open Your Eyes!
Have you ever had a conversation with someone who never looked at you? It's awkward! There will be times that our posture on stage is inward reflection or upward in praise, but our primary posture should be outward to the congregation. We are there to serve and guide them. People come into church with baggage and heavy hearts and we need to invite them into worship. Our facial expressions and stage presence need to communicate that we are excited to be there, that we are excited to see them there, that we welcome them to worship our Savior and God together. Singing with eyes closed the entire service isn't very inviting and can work against our invitation to worship.
One of my favorite quotes I heard at a Seeds Conference (seeds.churchonthemove.com) is that the level of engagement and response in worship in the congregation will rarely exceed what is on stage. So let's sing with hands lifted high and invite everyone into worship with us.
Andy Walker is a producer based in Nashville, TN. Andy has had the opportunity to play with several bands & worship artists, including Tim Hughes, Ben Cantelon and Luke Hellebronth. He's played at countless churches & was a music director at one for two years. As a producer & writer, he's had song placements on MTV and continues to work with indie artists, as a producer, mixer, or musician as well as creating resources for worship leaders. He lives with his wife and two kids south of Nashville.
(image credit: Christy Wilson: http://www.christyjoyphotography.com)