Ableton Live 10: 6 New Features for Worship Leaders
Six awesome features in Ableton Live 10 that will help worship leaders!
1. Tracks adopt their file name
When you drag tracks into Arrangement View, every track adopts the name of the track. Previously you would have had to change the name of all of your tracks, but now it automatically adopts the name of the file. This will save you a lot of time!
2. Groups inside of groups
In Live 10, you can group tracks together, inside of groups. For example, if you wanted to group all of your guitar stems together, you can select all of the guitar tracks, then right click and hit Group Tracks. Then select tracks inside of an existing group and do the same thing to group those together. This is great if you wanted to group the electric guitar stems together inside of your guitar group. This feature is awesome for routing or mixing groups of tracks. You can do this in Session and Arrangement View.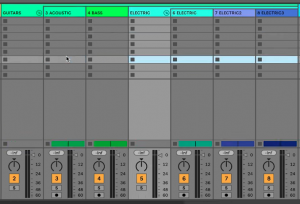 3. Different click sounds
Live 10 comes with three click sounds: Classic, Click, and Wood. Pick which sound works best for your worship team so that you are never out of time!
4. Custom name your outputs
You can name your outputs in Live 10! Select Live Preferences, Audio, and then Output Config. After you name all of your outputs, under External Out on each track, you can select from the names of your outputs instead of just the channel number. This is helpful if you are using an interface so that you don't have to remember which output channel is which.
5. Export as an .mp3 file
Now you can create a rehearsal mix or a track for your team to practice with and export it as an .mp3 file!
6. Capture
If you're creating a track in Ableton and recording a part, but forget to press the record button, don't worry! Live 10 is always listening. Now you can hit the capture button and it will remember what you were playing. Then you can quantize the part and put it into your track. 

Enjoy Ableton Live 10 and make sure to check out LoopCommunity.com to purchase your MultiTracks. Happy looping!