How to Create A Session in MainStage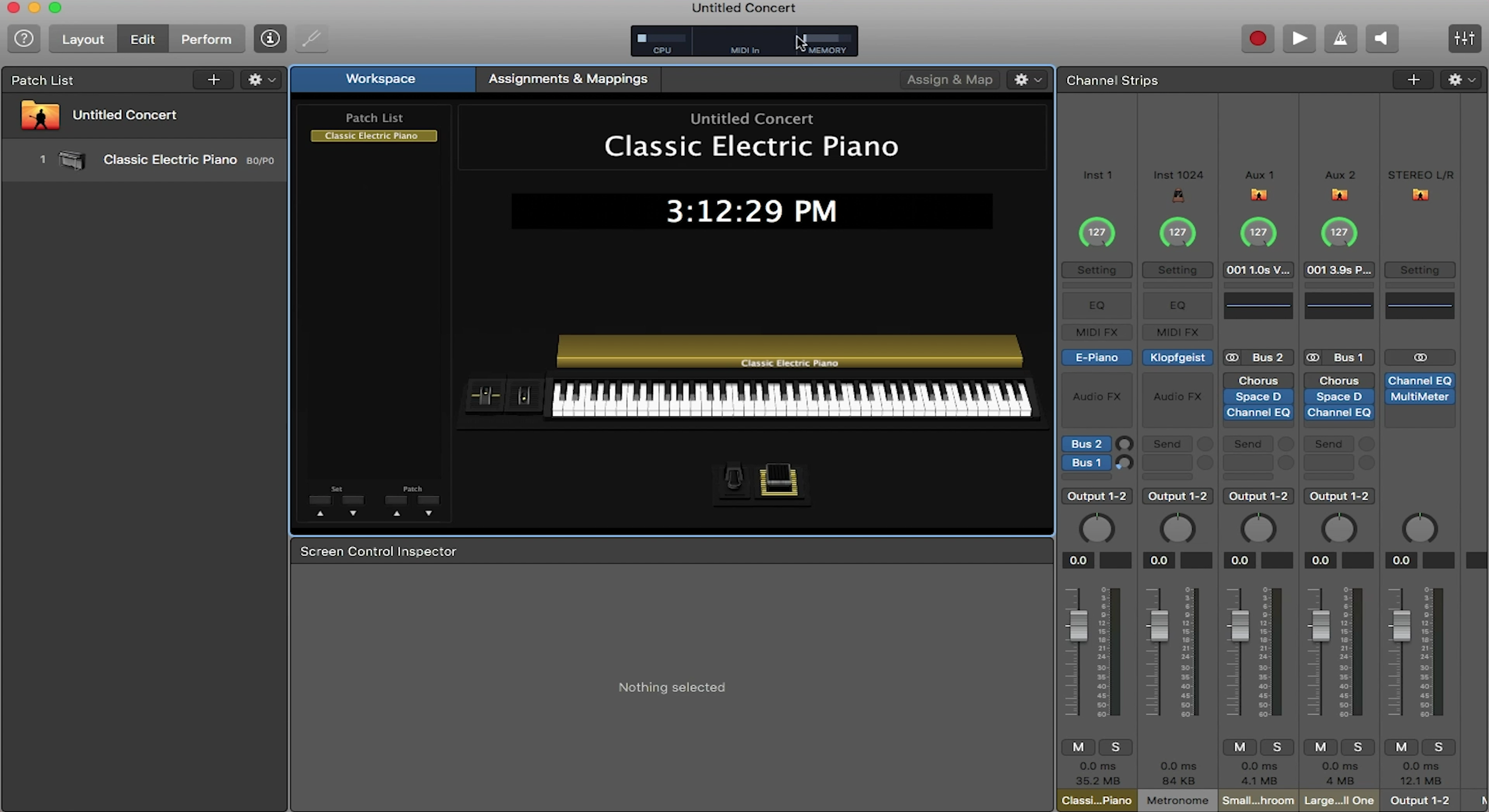 MainStage is a great application designed for live performance. With a look and feel similar to Logic Pro, it has many capabilities that DAWs have. Let's look into the different facets and features it has to offer so that you can learn to use it in your worship set.
Creating A Blank Template
When you first open MainStage, you will be greeted with a template pop-up window. You can choose from different templates suited for keyboardists, drummers, vocalists, etc. Unlike Logic Pro, there is no blank template option. Let's go ahead and create one instead.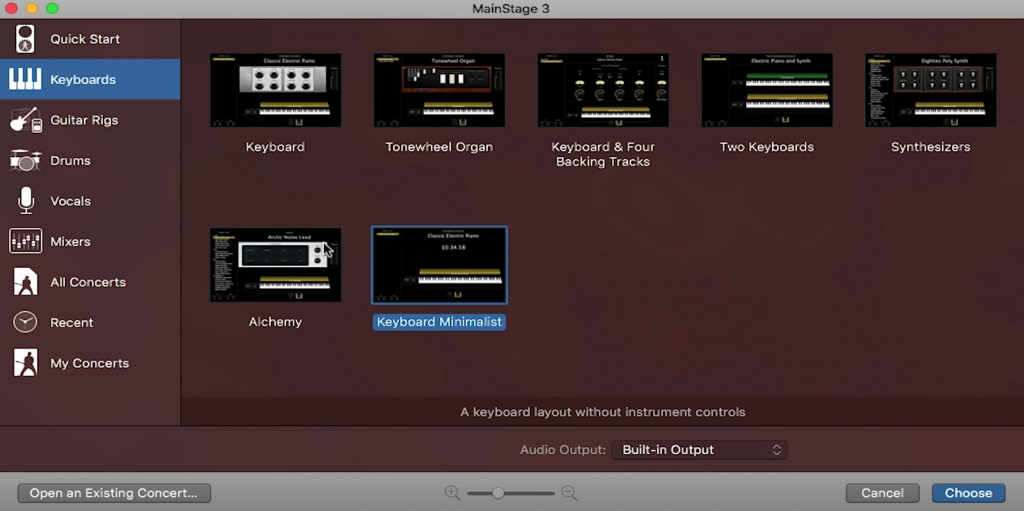 Open the "Keyboard Minimalist" template. You can open any template to start, but this one has very few things for you to get rid of. To hide the workspace, go to "View, Hide Workspace". The shortcut for toggling the workspace is Command+7. Now what's left of this template are the channel strips off to the right and the patch list off to the left. These are the two most important sections of MainStage. The Patch List shows every patch you have in your session, while the channel strip section is where your sounds or audio files are placed. From an organizational standpoint, think of each patch as a song in your setlist, and channel strips as the stems to that song.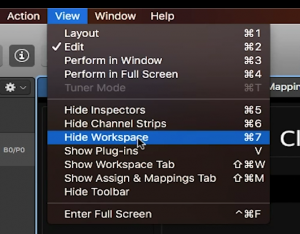 Back to clearing out the template, click on "Untitled Concert", then delete all of the channel strips except for the metronome and the stereo outputs. You can also delete the "Classic Electric Piano" channel strip within the "Classic Electric Piano" patch. MainStage is now as empty as it can get. Go ahead and save this as a new template. To do so, go to "File, Save" then change the name to something like "Blank Template".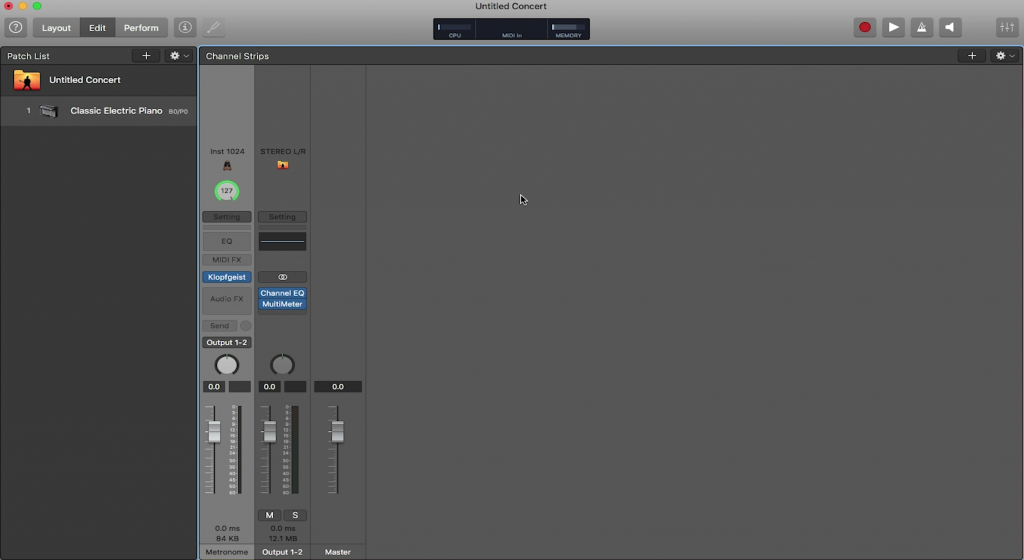 Importing Stems
If you want to play with multitrack stems, we will need to import them into our session. Find them on your computer and drag them into MainStage. MainStage will import these stems, placing each one on a newly created channel strip.
On each of these channel strips, there will be a plugin called playback. This is where the actual audio files you imported are stored. If you imported a group of stems, say all the stems for one particular song, they will all be grouped together. You can check which group a stem is in by opening its playback plugin, then looking in the bottom right of the plugin window. The first group of stems you import should all read group 1.
In addition to this grouping, toggle on the linked button in one of the playback instances. This will further link the plugins together. When they are grouped together, clicking on a transport control in one of the playback plugins will toggle all of them at once. For example, if you click play on the drum stem for a song, all the other stems from that song will play as well.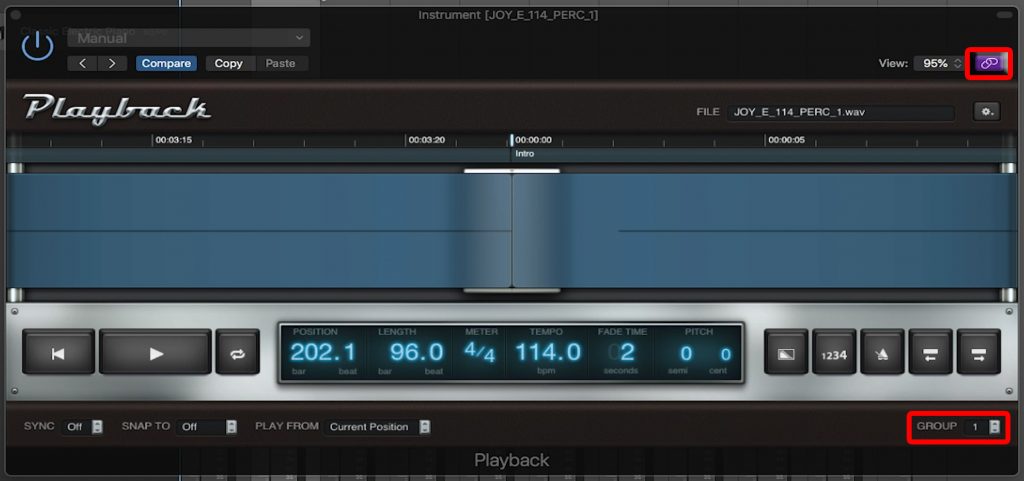 Live Playback Settings
The next thing to do is to change some settings within the plugin so that it is more suited for live playback. Note that these setting changes will have to be made on every plugin individually.
If you want to have stems play right when the patch is selected, click on the little gear in the top right corner of one of the playback instances. A dropdown menu will appear. Enable "Start on Patch/Set Change" and "Start with Play Action".
If you want the stems to always start at the beginning of the song, click where is says "PLAY FROM" at the bottom of the plugin and select "Start".
If you want the stems to snap to whole bars, allowing you to start at the beginning of certain sections, click on "SNAP TO" at the bottom of the plugin and select "Bar".
Lastly, if you plan on playing the song at a different tempo than it is defaulted at, you will need to toggle on the "SYNC" parameter at the bottom left of the plugin. This will then sync the plugin to the patch tempo. To change to patch tempo, open the workspace (command+7), make sure the patch you want is selected, then input your desired tempo in the parameter labelled "Change Tempo To:".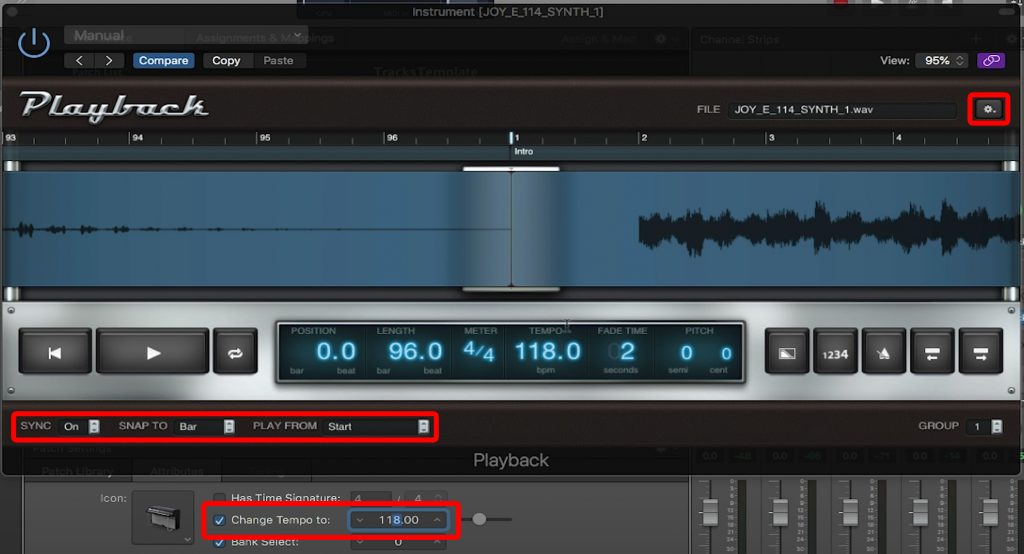 That's how you create a template in MainStage! This template is a great starting point for worship leaders wanting to run their tracks in MainStage. If you're looking for tracks to use in worship, go to LoopCommunity.com!