Indie Spotlight: Chris & Bethany Solyntjes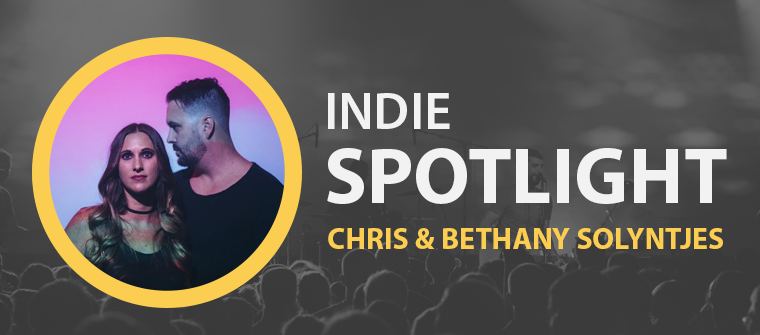 Chris & Bethany Solyntjes are worship leaders at Renew Communities in Cleveland, Ohio. They are husband and wife, and met at Grace College in Indiana and they have been writing and leading worship ever since. They have committed their lives to showing people the love and faithfulness of a God who is always near. Chris & Bethany released their most recent EP "Steady, Able, Constant & True" in January.
"Our new record 'Steady, Able, Constant & True' was released just a few months ago! We wrote these songs to serve as reminders to the faithfulness and goodness of God working in our lives and the lives of the people in our church," said Bethany. "To celebrate the truth that when we draw near to God, he will draw near to us. In the old testament, the Israelites would often build altars to remember important events or times when they witnessed God's faithfulness. That's why we wrote these songs; to serve as alters that remind us to worship him because of who he is, what he has done, how he has proved himself faithful, and the lives he has renewed and restored."
This EP is full of worship songs that are great for using in a congregational setting. The lyrics are focused on Jesus and the victory that is found in Him. The first song on "Steady, Able, Constant & True" is "I Will Sing".
"I Will Sing" is both a reminder to God's people to keep our eyes on Jesus and also a call to worship him for the new life that he brings. There are so many distractions in day-to-day life, that it's easy to shift our focus to other things we think will satisfy us or make us feel of worth. We chase after things like money, status or acceptance because we think that will give meaning to our life and existence. But Jesus is saying, "I AM the one who makes all things new. I AM the only one who can bring you that joy and fulfillment you are looking for. I AM the one who can truly satisfy you… your worth is in ME… not in how you perform, not in the things you've accomplished, but in ME." So "I Will Sing" is a call to refocus our eyes on him as our only hope and worship him for what he has done and continues to do for us," said Chris.  
You can download the Master MultiTracks for "Steady, Able, Constant & True" on LoopCommunity.com! The MultiTracks for "I Will Sing" are FREE through May 24! Be sure to get the tracks and check out Chris & Bethany's EP on iTunes and Spotify.