Expanding the Looptimus with the Looptimus Mini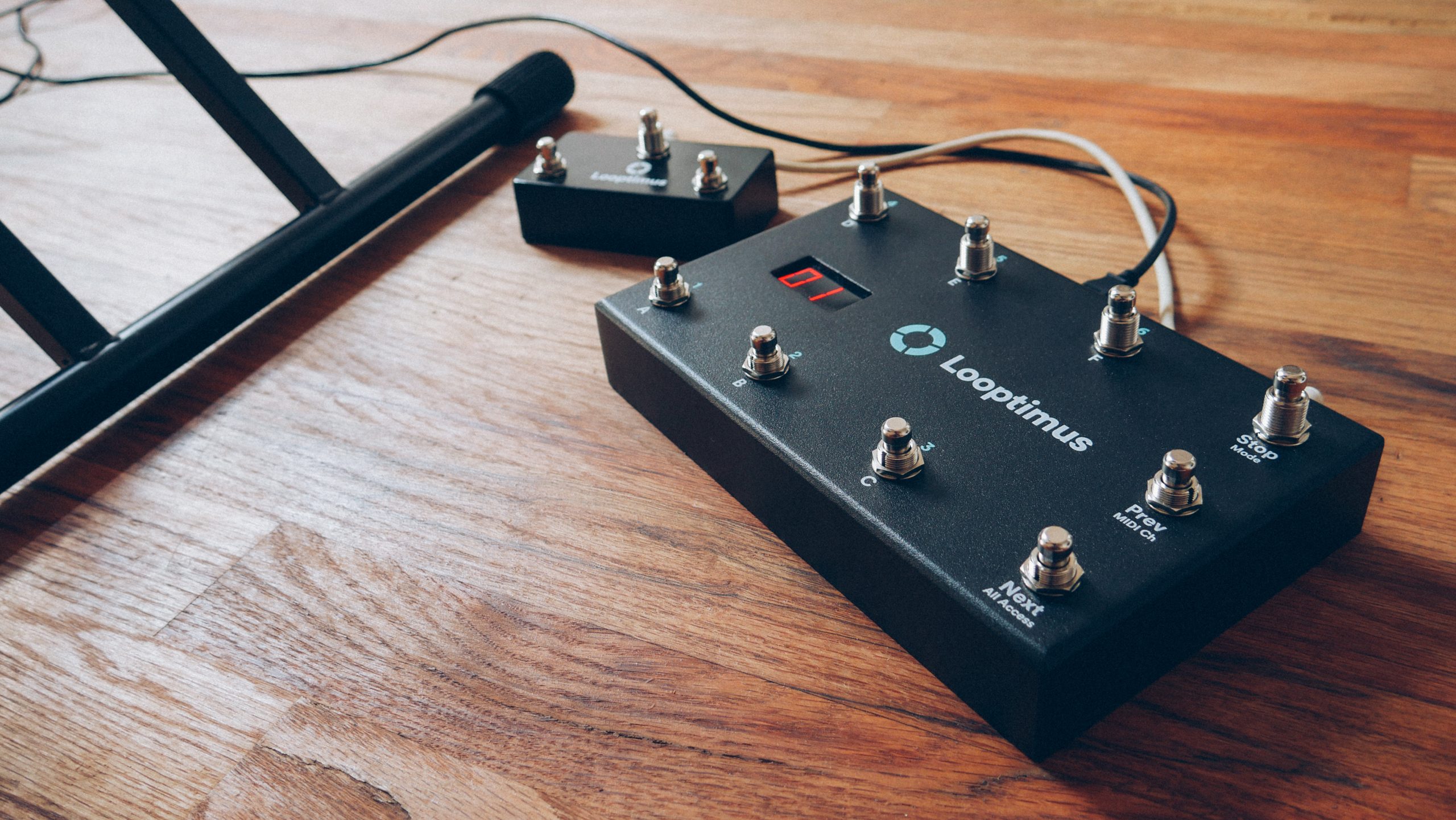 Did you know you can connect the Looptimus Mini to the Looptimus? By doing so, you are given even more capabilities and modes to use while running your tracks. Let's take a look!
In order to connect the two devices together, you will need a stereo TRS cable. Plug in one end of the cable to the jack on the Looptimus Mini, then the other end of the cable to the gold jack on the Looptimus. Once they are connected, the Mini can enter different modes, each interacting with the Looptimus in a different way.
To enter the different modes, when powering on the Looptimus hold the E and F button for a few seconds. The LED screen on the Looptimus will display the mode it is currently in. You can toggle between the modes by pressing the next and previous buttons on the Looptimus. To enter that mode, simply select the stop button. Here are the modes below!
GHI Mode (GHI): This mode gives you 3 additional buttons in each bank. The Looptimus gives you buttons A through F, while the Mini gives you buttons G, H, and I.
Note Mode (NT): In Note mode, the Mini's buttons turn into 3 global buttons, similar to the stop button on the Looptimus. No matter what bank you are in, the Mini's buttons will always send the same signal.
Program Change Mode (PC): In Program Change Mode, you can assign program changes to the buttons on the mini. To choose which program change each button sends, press and hold the Mini button. Then using the next and previous buttons, toggle the program change of your choice that displays on the LED screen. No matter which bank you are in, you can always access these program changes.
Control Mode (CTL): When in Control Mode, the Looptimus Mini acts as a shortcut to toggle the different modes inside of Looptimus. This makes for a faster way to toggle between the Looptimus modes of Default Mode, Program Change Mode and Pad Mode.
Channel Mode (CHL): When you're in Channel Mode, the Mini acts as a remote that lets you quickly choose which MIDI channel the Looptimus is sending out.
__
In addition to these modes, the Mini also helps in Pad Mode. When your Looptimus is in Pad Mode, the Mini buttons will toggle which octave you are in.
Using the Looptimus with the Looptimus Mini adds so much to the capabilities the Looptimus can offer. To learn more about either one of these products, check out LoopCommunity.com!