Loop Pro – The Sync Button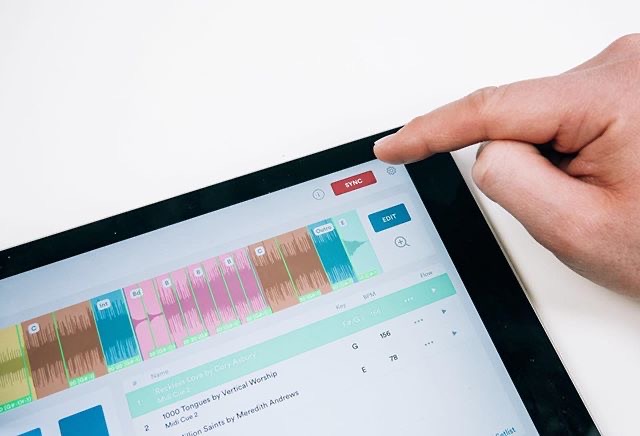 If you become a Loop Pro member, you get access to syncing your setlists in Prime between your devices and LoopCommunity.com. You can also share your setlists with your band members so they can prepare for rehearsal on their device. In order to make all this happen in Prime, you need to use the Sync button.
Syncing Setlists
The Sync button in Prime does two things. It saves your edits in Prime to the Cloud, and updates changes made on another device to the device you are on.
For example, let's say you have a Mac running Prime at home. You create your setlist and edit the tracks in Prime. If you weren't a Pro member, this setlist would only be available on the Mac. If you are a Pro member, you can click the Sync button to save all of your changes to the Cloud. Now, if you have an iPad that you use at church to run Prime, you can open up the app, and click the Load Setlist button, and download the setlist you created at home. It's as simple as that!
If you share a setlist with your band members, they can click Load Setlist in Prime, click the "Shared with Me" tab, and load that setlist into Prime. If you make changes to the setlist from your Pro account, then your team will have to click the Sync button to download the latest changes you made. Any changes they make on their own devices will not edit your setlist or another team member's setlist. This ensures that there won't be any accidental edits to your main setlist. Using the Prime Teams feature helps your team come prepared for Sunday.
New Version Available
When you press the Sync Button, a pop-up window will appear. If there is a new version available for Prime to update to, you will get a "New Version Available" pop-up window. This window gives you the option to either update and sync to the newest changes from the Cloud, or stay with the version you currently have on your device.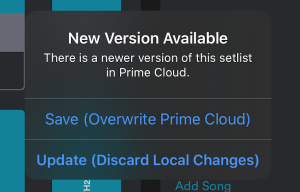 The Sync Button is key to syncing in Prime and gives worship leaders the flexibility to update their setlists from any device. To learn more about the Sync Button, Loop Pro and its other features, click here!