Making Loops: Software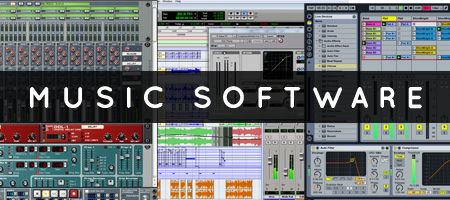 Let's be honest.  Who hasn't wanted to have complete studio in your house?  I know that I have.  Since I bought my first USB recording interface (which was a Tascam US-122) I have had a dream to own a complete Pro-Tools HD rig with keyboards that slide out the wall and everything.  With the recent leaps in software and hardware, companies like Avid, Ableton, and Propellerhead are quickly helping people make that dream come true.  On top of that it's becoming more affordable as well!
The Players
With the recording industry and music production business shifting toward smaller studios and home production, the innovative qualities of the available software has become outstanding.  Programs like Reason, Ableton, Logic, and Pro-Tools, are now accessible to the masses at a very affordable prices (some even in the LoopCommunity store).  These programs can help any musician or producer, beginner or expert, produce a great mix or final product. Let's take a look at a few different programs and what they offer:
Propellerhead Reason
Probably the most popular program (thanks to bands like David Crowder Band) is Reason. With the newest release of Reason 6, this almost seems like a one stop shop now (and if anyone would like to donate to my Reason 6 fund feel free to purchase a loop or two 😀 ).  My first copy of Reason was version 3 and it has come a long way. In version 6, with the integration of the Record product, the user really has a full studio at his fingertips.  The new ability to record audio and a new masterfully done mixer, anyone can now create until their hearts are content and never leave the Reason rack. A great addition to Reason the multitude of available refills.  You can realistically create almost any sound with one refill or another.
Reason isn't without shortcomings however. One down-side of Reason is that if you create different short loops for verse and chorus it is very diffucult to switch between them live. Reason is really more of a full track based program when using it live.  Although, if you are a beginner to programming or just want to try something new Reason is the program for you!
Ableton Live

Enter Ableton.  Ableton is a more complex program that requires more knowledge of MIDI to tap its real potential.  While I have not really sunk my teeth into all that Ableton can offer, I do know it can do almost anything. Ableton is the perfect tool for layering different sounds or using several short loops in a song in a live setting.  You can start and stop loops or even record a live loop while you are playing. I typically use Ableton to run my loops that have been created in Reason.  If we are using several songs that have tracks I will only need one screen with Ableton.  If you are like me and use Ableton only in live settings then the lite version is all you'll need.  It's called Ableton Live Intro (side note:  Be sure to enter the Loop Community contest to win a FREE copy of Ableton Intro.  Seriously, who doesn't love FREE software!).
Pro-Tools

Between Reason 6 and Ableton you can cover just about every need you will have.  But if you are like me, you want to learn it all.  Hello Pro-Tools!  Pro-Tools has probably made the biggest leap of any software.  Going from almost exclusively in professional studios to being accessible to every home producer.  This program can incorporate anything and has endless possibilities with editing, mixing, MIDI, recording, integration with other programs, mastering, and third party effects.  Pro-Tools can be a daunting program, but to someone who does a lot of chopping and cutting while editing this program can be a great tool.  It offers one of the best editing windows I've seen thus far.  I have found it easier to play with some effects, like a reverse, in Pro-Tools.  It can be done in Reason but I find it easier to work to in Pro-Tools.  An example of a track I created using pro tools is the song "Let it Shine" by All Sons and Daughters.
Try Them Out

Software is a great help for any programmer or music producer.  I try to vary what I use to give my creations the sound I hear in my head.  The program you use is really going to fall on what your personal preferences are and your style of creating.  All of these tools are fantastic resources.  Every one has it's own set of strengths and weaknesses.  My only advice is to give them all a try, you might be surprised how much you enjoy a different program.
About the author: Anthony Kidd is a band leader at People of Mars Hill in Mobile, AL. Describing himself and his work he says: "I love creating music. Hearing something in my head and being able to create makes me happy. I am simple but I love complex. I try to create a simple complexity in all of my tracks……does that make me weird? I am weird I also am greatly humbled that people would be willing to invest something into music that bounces in my head all day." Be sure to check out some of his tracks on his contributor page here.