How to Change the Key and Tempo of Your Tracks in Logic Pro
Are you interested in producing your own tracks? Logic Pro is Apple's digital audio workstation and is an application that worship leaders can use to produce and run their tracks. Logic's simplistic design makes it user-friendly and is great for beginner-level producers. This blog series on Logic Pro focuses on the features you need to know to get started!

Be sure to check out the first two blogs in the series:
1. Introduction to Using Logic Pro in Worship
2. Adding Tracks and Using Smart Tempo in Logic
Flexing Your Tracks
Flex Time is a great feature in Logic that helps you change the tempo and key of your tracks. While similar to Logic's Smart Tempo, Flex Time takes it on a little differently. There isn't a right or wrong choice here so feel free to use whichever you are more comfortable with.
To get started using Flex Time, you must first enter in your tracks and input the correct tempo of your song as the project tempo. Next, turn on Flex by clicking the Flex button right above your tracks (circled in the picture below). When doing so, each track will show a dropbox menu with different Flex including monophonic, polyphonic, rhythmic, etc. For each track, choose which options best describes the track's audio. For example, a drum track should be set to rhythmic, a bass track should be monophonic and an acoustic guitar track should be polyphonic. Make sure that the blue flex button is lighting up in each track. Now that your tracks are all flexing in the correct modes, you can now change the project tempo up in the control bar and all the flexed tracks will change with it.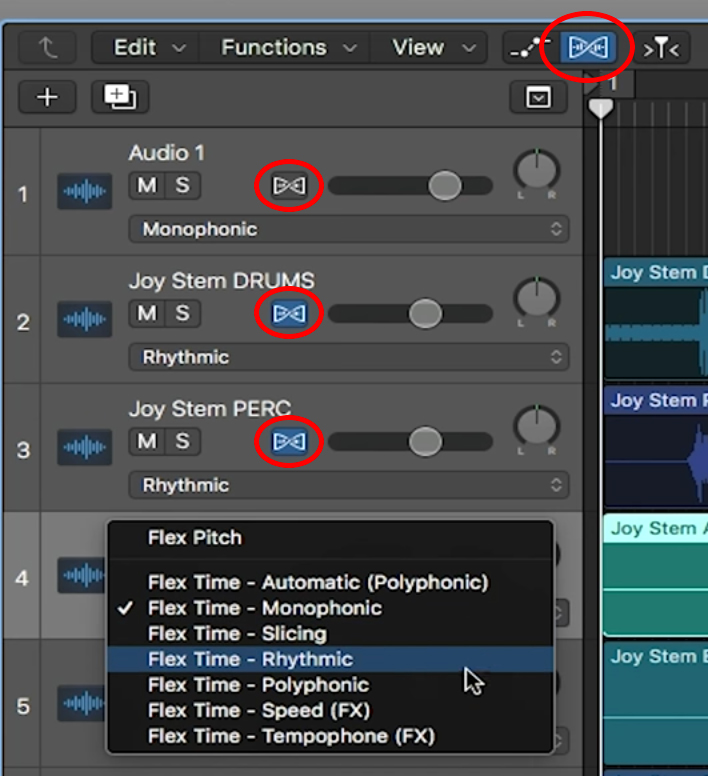 Changing the Pitch of Your Tracks
When your tracks are flexed, you have the option to change the key as well. To do so, open the inspector by clicking the inspector button up in the left side of the control bar (circled in the picture below). To change the key of your song, highlight all the tracks except for your click, cues and all rhythmic tracks such as drums and percussion. Next, go to the region inspector section in the inspector tab, and enter the desired number where it says transpose. Each number represents a half step. So for example, if your song is in G and you want to transpose it to A, type in "2" and your tracks will transpose up 2 half steps. If you are in D and want to transpose down to C, type in "-2" so that Logic transposes the tracks down two halfsteps.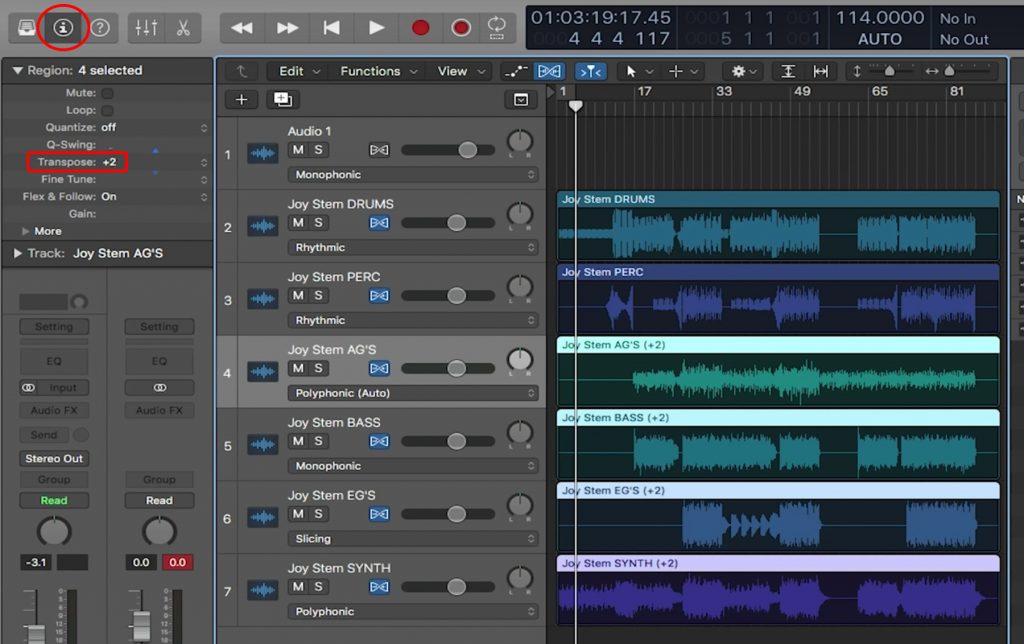 And it's as simple as that! Logic makes it easy to change the tempo and key of your tracks with its Flex feature